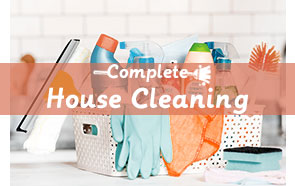 Transform your home, making it look like it is featured in a magazine with the help of our professional cleaning service. We will send you a cleaner or two who will immediately get down to busyness and clean every single inch of your home. Our professional cleaners will tackle anything from the piled up dust on your ceiling lamp shade to the stain on your carpet.
Make use of this offer and let our skilled people handle the list of chores that will surely take over your whole day. Make an appointment with us and invest your saved time in relaxing.
Steps in our service
Contact us and our customer support will take you in, giving you a list of all of our services, and provide you with any help and advice about Muswell Hill that you ask for. The price range of the professional cleaning services is arranged to suit your budget so you are not getting anything that is too cheap or a service that is way over the price you can afford. Everything in Muswell Hill is carefully selected so that you are happy and content at the end of the day.
When you select the service you need from the list that we have provided, an appointment will be booked for you and our cleaners will be sent off to your home.
About the cleaners – They are ready to tackle any challenge that comes to them, and don't worry if you feel uncomfortable about your home being a bit messy, chances are they have seen far worse beforehand. They will map out and plan how to clean your home eventually finishing the job before you know it.
Cleaning Services
Price
Regular Cleaning

£

16/h

Deep/Sanitasion Cleaning

£

18/h

Bedroom Carpet Cleaning

£

4

Kitchen Cleaning

£

18
Frequently Asked Questions
1. What type of items and surfaces can best benefit from a Professional cleaning service?
Essentially, all types of surfaces and items can undergo a deep cleaning procedure. Our cleaning technicians are very well-trained and prepared to design the cleaning treatment to fit the cleaning requirements of your items and surfaces. We have ensured the safe providing of various deep cleaning procedures, which can't be harmful to the very surface. Items that can benefit most from a Deep cleaning service are furniture, both leather and leather-imitating, carpets, rugs, blinds, kitchen appliances, floor surfaces, etc.
2. Can professional cleaning harm the surface of my items or worsen the condition of the stain?
It can, but we will never let that happen. As mentioned above, our cleaning technicians are perfectly capable to design and apply a cleaning process that cannot, in any way, harm the surface or your possessions. As professional cleaners, it is our job to make sure the cleaning is completely harmless to both you and the designated for cleaning surface. Moreover, all cleaning materials and substances that we use are completely organic and environment friendly. There is absolutely no danger of harmful fume release or toxins of any kind.
3. How is professional cleaning different than regular cleaning?
Deep cleaning is essentially a more thorough and precise cleaning process. It differs greatly from regular cleaning, as it requires a more complex set of cleaning procedures to remove even the most stubborn of stains and spots. The cleaning equipment required for a deep cleaning is also a specific one and all of our cleaning staff know how to operate and use it correctly.
Reliability and knowledge
It has essentially become part of us to be reliable and validate every single person in this institution. Both our employees and clients are respected and thanked for the work they do and that they keep coming back to us. We have formed a trusting relationship with everyone we work with and would hate if something happens that will lead to disappointment. In this industry we have gained an abundance of knowledge in Muswell Hill that is no match to any other company with such services.